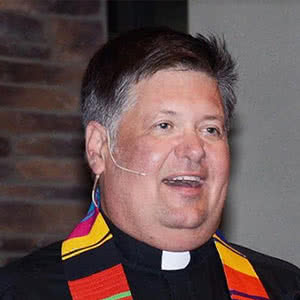 David Felten
A native of Phoenix, David received a music education degree from Arizona State University before attending Boston University School of Theology where he earned his MDiv in Biblical Studies and History. Before completing Chaplaincy training at Good Samaritan Regional Medical Center, David spent a year studying as a Rotary Graduate Scholar at  Perth Theological Hall at Murdoch University in Perth, Western Australia. There he received an Honours degree and a taste for Promite.
David served eight years as Associate Pastor and Co-pastor at Epworth United Methodist in West Phoenix before his appointment to start a new church in Northeast Scottsdale in1998. Via de Cristo grew into a dynamic and inclusive faith community serving a niche group of spiritual seekers – many of whom would otherwise be "church alumni". Since 2006, David has served as the pastor of The Fountains, a United Methodist Church in Fountain Hills, Arizona.
Although David is a full-time pastor, he also tries to stay connected to his roots as a musician. You'll often find him playing in a variety of worship and concert settings, including on a number of CDs by Roman Catholic musicians like Norbert Zwickl, Paul Hillebrand, and Tim & Julie Smith. He's also played with Peter Torsiello, Ken Medema, James Ward, Jaime Cortez, and in his brother's Washington-based big band, The Eric Felten Orchestra. Most recently, David played on some of the tracks of Barb Catlin's "Living the Questions" CD, "The Summons".
Active in the Desert Southwest Conference of the United Methodist Church, David chaired the Conference worship design team for many years, assembling a diverse and creative team that produced innovative and engaging multi-sensory worship. He has also served on both the Board of Ordained Ministry and the Board of Education, focusing on Adult Education offerings. David has especially enjoyed the opportunity LtQ has given him to hone his writing and curriculum-development skills.
A co-founder of the Arizona Foundation for Contemporary Theology, David works with a gifted ecumenical group of the theologically curious, hosting speakers and workshops that counter Biblical illiteracy and challenge the prevailing conventional wisdom in many churches. David is also a founding member of No Longer Silent: Clergy for Justice, an outspoken voice for GLBT rights both in the church and in the community at large.
David has been a guest on a number of local TV and radio programs and has enjoyed becoming something of a regular on KTAR radio's "The God Show" with host Pat McMahon.
David is the proud father of three reliably remarkable human beings.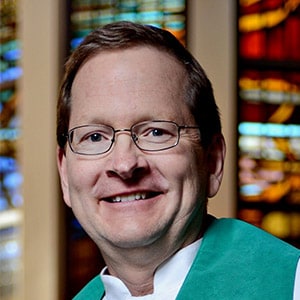 Jeff Procter-Murphy
An ordained United Methodist minister, Jeff currently serves as lead pastor of Dayspring UMC in Tempe, AZ. A large, vibrant congregation, Dayspring offers inspiring worship experiences with a variety of musical styles and an intellectually honest presentation of the faith. Jeff is passionate about communicating the gospel message to all, especially those who've been wounded by the church or have otherwise washed their hands of organized religion. Prior to Dayspring, he served other diverse and vibrant Arizona Methodist churches in Scottsdale, Phoenix and Mesa, and Anaheim, CA.
Jeff grew up in Phoenix, graduated with honors from the University of Arizona and received his master's and doctorate from the School of Theology at Claremont, CA, where he counts himself fortunate to have studied with John Cobb, Burton Mack, Rolf Knierim, James Sanders and Howard Clinebell. A leader in his community, Jeff was a founding board member of the Greater Phoenix Interfaith Hospitality Network (now Family Promise), a volunteer-based ministry that provides fellowship and transitional housing to homeless families with children. Jeff is a founding member of No Longer Silent: Clergy for Justice, www.nolongersilent.org, an inter-denominational group of Phoenix clergy organized to provide an alternative voice to the Christian right around homosexuality and the church.
Jeff has been married to Janice since 1989 and they have two adult daughters. He enjoys spending time with his family, reading, hiking, music and travel.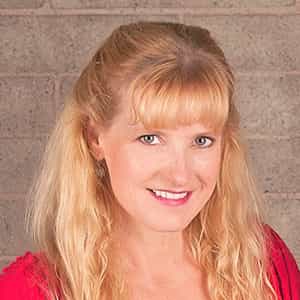 Jennifer Schwarz
When it comes to daily operations for LtQ, Jennifer "wears all the hats." She is there to guide customers along when they are looking for help placing orders, need technical assistance, or are in search of general information. She manages all LtQ's customer service, marketing, sales and distribution out of her home, with her loyal staff of two pups who serve as high-level security agents. She is thankful for her understanding husband who is quite tolerant of products that are noticeably stocked around the house (a.k.a. "the LtQ distribution center").
Jennifer's background is in education psychology. She received her M.Ed. in 1993 from Arizona State University, specializing in educational psychology and research. As a faculty member at the University of California, Irvine, her research focused on cognitive processing, as well as a longitudinal study looking at the impact of technology in education. She and her husband, both native Phoenicians (and high school sweethearts) decided to move back to Phoenix in 2004. Jennifer was then working as an independent research consultant until she was approached by her brother, Jeff Procter-Murphy and his business partner, David Felten, about an opportunity to help run their new resource business.
If you email or call LtQ, chances are you will be interacting with Jennifer. She will try to make your LtQ experience a great one! Please let her know if you have any questions or comments.
Do you have a question or comment?