You Can Get the Bible to Say Whatever You Want
For people determined to get Divine approval for their beliefs and actions, it's not hard to get the Bible to say whatever you want it to say. You can find justification for just about anything you'd like to do and rationale for hating just about anyone you want to hate. And it's just those kinds of manipulative shenanigans that have turned a lot of people off to any kind of serious practice of the Christian faith — and much of it is the fault of those who have ceded the serious reading of the Bible to people who have a reactionary agenda. Professor Mark George makes an earnest appeal to those who have neglected their responsibility to engage with a text that is too important to ignore:
I'm almost to the point of begging everyone I see who wants to listen to me talk about Bible, "Read the Bible. READ the Bible." I did some teaching on the ten commandments and ten commandments monuments recently with some folks who were working in their churches and they're active and they have long history of this. One or two people said, "Y'know I've never actually read the ten commandments." I see the plaques on the walls and I know about them and hear about them all the time, but I've never actually sat down and read them." And I said, "Yeah, and you probably didn't know there's one in Exodus and one in Deuteronomy. And they're MOSTLY the same. But even to say they're mostly the same raises some questions. Did you know that Jews have a different ordering than Christians have?

It made me remember that we've GOT to read these texts. There's lots in the texts that I don't like. They challenge my modern sensibilities. But if I don't read them, if I don't study them, if I don't talk about them, if I don't OWN the texts in my tradition, someone else will. And they're going to talk about them in ways that I disagree with. But since I don't know them, I won't know what to do with them.
If you do actually start reading it, you might see the Bible for what it really is. You might start thinking critically, entertaining dangerous ideas, and the next thing you know you might find yourself having to rethink your faith in light of science, the modern world, and the needs of people in the 21st century.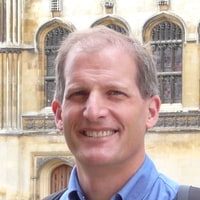 Mark K. George teaches Hebrew Bible at Iliff School of Theology in Denver, Colorado. His publications include Israel's Tabernacle as Social Space (SBL, 2009) along with entries and chapters in edited books and articles in academic journals. He is an active member of the Society of Biblical Literature.
Dr. George is a featured contributor in Living the Questions' upcoming series on the origins of the Bible.