Letting the Cat Out of the Bag
Don't miss John Shuck's "Religion for Life"  interview with David Felten, one of the co-creators of Living the Questions: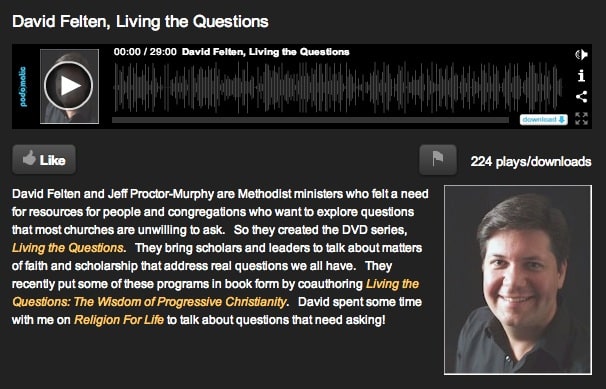 Click HERE or on the graphic above to listen to the podcast
Among a variety of topics in this podcast, Felten and Shuck discuss how clergy have not been honest with laity about what is being taught in seminary and academia and how hesitant many clergy are at letting the cat out of the bag about the Jesus of history. This is part of Shuck's current series on The Future of Faith featuring interviews with Marcus Borg, Val Webb, Lloyd Geering, Matthew Fox, and many others.
If you've ever been in conversation and had to fumble to try and describe exactly what "Progressive" Christianity is, then you'll find some succinct answers in this wide-ranging conversation.
David Felten and Jeff Procter-Murphy are the creators of the DVD series, Living the Questions and authors of the Amazon best-selling  Living the Questions: The Wisdom of Progressive Christianity.
Religion For Life is an educational program that explores the intersection of religion, social justice and public life. It features interviews with local and national figures from a variety of religious traditions and from a variety of perspectives, and  addresses the effects of religion – both positive and negative — on public life.
The host of the program is the Reverend John Shuck, a Presbyterian minister for 21 years and currently the minister at the First Presbyterian Church of Elizabethton, Tennessee. Prior to entering the ministry, Shuck was a radio broadcaster at stations in Boise, Idaho and Seattle, Washington. Shuck's website is HERE and podcasts are available by heading over to PODOMATIC.