Uppity Women of the Bible – DVD Edition
$125.95
This curriculum edition DVD program may be used for online study via a computer DVD drive and screen sharing.
Uppity Women of the Bible is a four volume DVD-based series featuring Hebrew Bible professor Dr. Lisa Wolfe. Combining careful scholarship with humor and fresh insights, Dr. Wolfe presents just what your group needs for lively, thoughtful discussion of Ruth, The Song of Songs, Esther and Judith.
The four volume series is comprised of a total of 25 engaging 5-15 minute sessions. Developed for adult study groups meeting in homes or houses of worship, each session ends with discussion questions so that participants – with or without a trained facilitator – can understand, debate, and explore the issues raised by the stories of these often misunderstood Biblical women.
Description
---
Lisa Wolfe is also the author of Ruth, Esther, Song of Songs, and Judith (Wipf and Stock Publishers, 2011) which is a companion book to this DVD series. For details and pricing please Click Here.
Program price includes the DVD lecture series and on-going access to the downloadable/printable study materials accessible via the "Supplemental Materials" tab above. This DVD program is not closed captioned.
Attention International Customers: This DVD program is only available in NTSC format. Please verify that your DVD player can read/play NTSC formatted DVDs prior to ordering. Thank you!
Contributor
---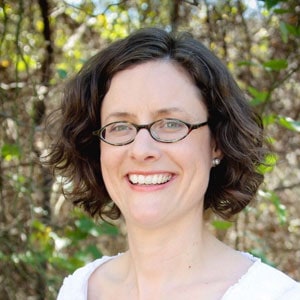 Dr. Lisa Wolfe
Lisa Michele Wolfe earned a Ph.D. in Hebrew Bible from Garrett-Evangelical Theological Seminary and Northwestern University's joint program in Religious and Theological Studies. Dr. Wolfe is an ordained minister in the United Church of Christ and currently works as Associate Professor of Hebrew Bible at Oklahoma City University. She is a self-described Bible Nerd.
Themes
---
Ruth
In seven engaging sessions Rev. Dr. Lisa Wolfe takes you on an enlightening journey through the Book of Ruth. This is a lively and thoughtful examination. Dr. Wolfe considers the vulnerability of widows and the difficult situation of foreigners in biblical times. She explores themes of loyalty, bitterness, courage, poverty and seduction. What really happened on the threshing room floor? Combining humor and careful scholarship, this study invites you to re-read the book with new insight and understanding for all its characters, especially the intelligent, confident – even uppity – heroine Ruth.
| Session Title | DVD Run Time |
| --- | --- |
| Bittersweet | 10:51 minutes |
| In Case of Emergency | 13:20 minutes |
| The Go'el? | 11:48 minutes |
| A King's Ancestry | 08:31 minutes |
| Understanding Ruth | 11:41 minutes |
| An Uppity Woman? | 14:15 minutes |
| Grace and Hospitality | 06:24 minutes |
Song of Songs
Explore the mysterious, beautiful, and alluring Song of Songs, at times referred to as Song of Solomon, in this six-session study led by Rev. Dr. Lisa M. Wolfe. As she navigates this intricate and sometimes puzzling book, Dr. Wolfe combines deep scholarship with a charming enthusiasm for the text. She poses some of the central questions surrounding Song of Songs. Who wrote it? What sort of people are the main characters? Is it based in history, mythology… or both? As you enter into the world of the lovers Ra'yati and Dodi, you will have plenty of opportunities to laugh and even blush, right along with Dr. Wolfe. Uppity Women of the Bible: Song of Songs invites you into the adventure of re-reading and re-imagining this powerful and intriguing work of poetry and literature.
| Session Title | DVD Run Time |
| --- | --- |
| Her and Him | 11:20 minutes |
| What about Solomon? | 08:02 minutes |
| A Misunderstood Book | 13:22 minutes |
| Don't Hurry Love | 11:48 minutes |
| Your Eyes are Doves | 10:56 minutes |
| What's it All About? | 08:30 minutes |
Esther
Enter into an exotic and fanciful Persian kingdom complete with a dim-witted king, a defiant queen, an egotistical lieutenant and a loyal uncle. With lavish banquets, extreme beauty treatments and dangerous liaisons at every turn, can the beautiful and courageous Esther avert disaster for her people? All this occurs in a Biblical book where God is never mentioned. Rev. Dr. Lisa M. Wolfe digs deeply and lovingly into this complex story that ranges from slapstick farce to Shakespearian tragedy. Uppity Women of the Bible: Esther is presented in six sessions. So grab your Purim gragger and your hamantaschen – if you don't know what those are, you'll find out in session two – and join Dr. Wolfe for this fascinating study of power, corruption, violence and courage.
| Session Title | DVD Run Time |
| --- | --- |
| Who's Who | 04:59 minutes |
| Setting the Stage | 13:27 minutes |
| The Defiant Queen | 05:25 minutes |
| From Coronation to Doomsday | 12:36 minutes |
| The King's Scepter | 05:08 minutes |
| Uppity Esther? | 10:16 minutes |
Judith
This fascinating volume examines the story of an Uppity Woman who took things into her own hands – including the head of a brutal warrior chief. Rev. Dr. Lisa M. Wolfe takes you on a tour of the Book of Judith, posing provocative questions along the way. Judith, from the Koine Greek version of the Hebrew Old Testament, reads like a historical novel rife with warfare, lust, espionage and intrigue. This six-session volume takes you from a mythological battlefield and a besieged city into the studio and psyche of the Baroque painter Artemesia Gentileschi. Dr. Wolfe's style is a refreshing balance of careful scholarship and a genuine love for the story of this amazing woman.
| Session Title | DVD Run Time |
| --- | --- |
| The Real King Antiochus | 08:33 minutes |
| Besieged | 11:17 minutes |
| Judith's Plan | 08:49 minutes |
| An Unlikely Hero | 07:57 minutes |
| Piety and Violence | 12:21 minutes |
| The Art of Artemisia | 05:49 minutes |